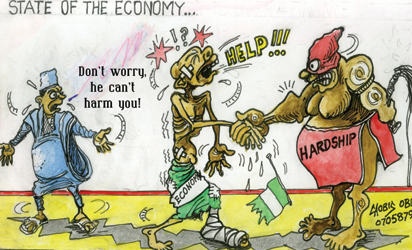 The plague of poverty is a great problem which affects Nigeria as it does to other Nations of the world. The greater its level of persistent in the world, the worrisome it becomes. This has prompted the world leaders to formulate the Millennium Development Goals (MDGs) as a means of addressing the menace of poverty in the world. Poverty has made Nigeria to reach a level that no country desired such that no government, organization, community, clan or family can survive effectively without introducing one kind of poverty reduction programme. This problem of poverty and its reduction does not lie on just programme introduction but the effectiveness of such programme and strategies to be adopted in its executions.
This study is, therefore, an attempt at evaluating the effectiveness of poverty programmes in Nigeria especially to meeting the major goal of the MDGs. The study is a structure with conceptual literature, theoretical framework, the adoption of the questionnaire as a means to source information data presented and interpreted and finally conclusion and recommendations were suggested to address the issue of poverty.
Background
At the early of the twenty-first century, efforts are being made in the world to enhance the level of economic growth and development. Concerns were centered on such macroeconomic problems such as poverty eradication, empowerment of women, improvements in the education, health and environmental protection for people living in the developing countries. The turning of attention to growth, development and social capital in the global arena is meant to overthrowing the economic and social conflicts that are prevalent in most developing countries (UNDP Report; 2002, and Asley and Maxwell, 2001). Poverty reduces the social and psychological prestige of its victims. Poverty is a condition of being poor. Poverty is as a result of lack of knowledge to translate potentiality into practical creative benefits to motivate well being (Journal of Sustainable Development: Vol. 3, No. 4; Dec 2010).
A critical look at the Nigeria condition, it is so pathetic in the sense that the country that is rich in natural and agricultural resources, oil and gas can not boost of putting foods on the tables of its citizens. In fact, an average Nigerian is said to be living below one dollar. Research has it that the foundation of most social vices and corrupt practices both in high and low places in this scourge called poverty. At present, Nigerian is rated as one of the poorest countries of the world. It is as a result of this and others maladies that are experienced by the citizens of the world especially the third world countries, that the United Nations Assembly in September 2000 in a meeting called the Millennium Submit in the United State of American with eight-point development target tagged the Millennium Development Goals (MDGs) (United Nations, 2001 and Oxam, 2003).
The broad objectives of the MDGs are to reduce extreme poverty and hunger by half, achieve Universal primary education, promote gender equality and empower women, reduce child mortality, improve maternal health, combat HIV/AIDS, malaria and other diseases, ensure environmental sustainability and develop a global partnership for development by 2015 in all the poor countries of the world (United Nations, 2003:2). As a member of the United Nations, Nigeria came–up a policy document called the National Economic Empowerment and Development Strategy (NEEDS) as a means to achieving the Millennium Development Goals.
Concept and Theoretical Issues
Poverty as a static and dynamic phenomenon has no specific definition of poverty it affects many aspects of the human condition such as physical, moral and psychological, a generally acceptable definition of poverty is hard to come with, it cannot be captured only by income or consumption based measures. Poverty is the inability to attain a minimum standard of living World Bank report (2002). The report constructed some indices based on a minimum level of consumption in order to show the practical aspect of poverty. These include lack of access to resources, lack of political freedom and voice, lack of shelter, poor access to water and sanitation, vulnerability to shocks, violence and crime, political discrimination and marginalization.
Poverty concepts are categorized basically into; absolute poverty, relative poverty, and subjective poverty.
Absolute poverty
Absolute poverty deals with basic human needs and is measured by resources required to maintain physical efficiency. In the words of Miller (1968), Plotnick and Skidmore (1978), individuals, families or groups are considered to be in absolute poverty when they lack the resources particularly real income to obtain the types of diets needed to enjoy some fixed minimum standard of living determined by a given society. This minimum standard of living considers some amount of goods and services essential and those who are unable to obtain them are said to be poor. These goods and services include food, clothing, housing, healthcare, water, sanitation and education (O'Donnell 1997; Kuper and Kuper, 1996; Nweze and Ojowu, 2002).
The poverty line used by the World Bank for international comparison is one dollar per person per day. Those below the poverty line are grouped into two; the poor and the extremely poor giving rise to two poverty lines (upper and lower poverty line). While those whose income falls below the upper poverty line but above the lower poverty line are categorized as poor, those whose income falls below the lower poverty line are categorized as the extremely poor.
Relative Poverty
Relative poverty is a means of measuring poverty in comparison, that is a situation an individual's or a household's income is less than the average income of the population in the society being considered the result is that the individual or household who has goods and services below the average is said to be poor. In the words of O'Donnell (1997), those who are in relative poverty have their resources far lower than those possessed by average individuals or households to the extent that, they are not able to live ordinary living patterns, customs, and activities. This definition is dynamic as it must be related to the needs and demands of a changing society.
Subjective poverty
This concept of poverty is based on individual's perception of their self-based on their standard of living. The feeling of whether one is poor or not depends on the absolute minimum standard of living which one is categorized as poor.
Table: Living Index Indicators in Nigeria (#)
| | | |
| --- | --- | --- |
| Years | Real per Capita Income (000) | real per Capital Private Consumption |
| 1983 | 7864 | 5.80 |
| 1984 | 8370 | 6.00 |
| 1985 | 8584 | 5.87 |
| 1996 | 11544 | 7.12 |
| 1987 | 16707 | 9.74 |
| 1988 | 13903 | 8.83 |
| 1989 | 13929 | 8.32 |
| 1990 | 14123 | 8.22 |
| 1991 | 13029 | 8.79 |
| 1992 | 13628 | 8.17 |
| 1993 | 14820 | 8.80 |
| 1994 | 11353 | 7.73 |
| 1995 | 11223 | 7.78 |
| 1996 | 9753 | 7.07 |
| 1997 | 7189 | 5.42 |
| 1998 | 7561 | 5.65 |
| 1999 | 7061 | 5.43 |
| 2000 | 7248 | 6.65 |
| 2001 | 7248 | 5.94 |
| 2002 | 8832 | 5.45 |
| 2003 | 9245 | 5.19 |
| 2004 | 9882 | 6.78 |
| 2005 | 11253 | 8.27 |
| 2006 | 11580 | 11.32 |
Source: NBS, socio-Economic profile of Nigeria 2007.
Although the income dimension of poverty definition is practically the most fundamental, other indices discussed.
Efforts Made in Attaining Nigeria MDGs on Poverty Reduction
The Millennium Development Goals (MDGs) are a set of measurable goals with corresponding targets that were set at the United Nations Millennium Summit in 2000. The basic aim was to reduce the menace of poverty which assumes the foremost position in the global development agenda. The MDGs state the paramount task of development, such as improving the welfare of all people in the world to help them realize their potential, to reduce insecurity and increase opportunity, and to ensure that benefits attained in the current generation are sustained and augmented in the next generation (World Bank, 2003c;3).
As a member of the United Nations, Nigeria set a policy document called the National Economic Empowerment and Development Strategy (NEEDS) to further see to the achievement of the millennium development goals. Specifically NEEDS has the following goal; wealth creation, employment generation, poverty reduction and value re-orientation. This programme is rooted in the experience of past failed plans, an articulation of a clear national vision, and a realistic appraisal of what is feasible within the medium to longer-term framework (National Planning Commission, 2004:12).
Nigeria needs a dynamic and growing economy to be able to reduce the level of poverty with its many renewable and non-renewable resources, offering opportunities to jump-start faster growth with sound macroeconomic policies. Such policy objectives include:
Sustaining high but broad, a non-oil base growth of GDP at a rate consistent with poverty reduction and employment generation.
Diversifying the productive structures away from oil/mineral resources.
Systematically reducing the role of government in the direct production of goods and strengthening its facilitation and regulatory functions.
In the light of these macroeconomic policy objectives, the Nigerian government intends to use the following major instruments to achieve its growth and development strategy, the policy objectives include:
Privatization, deregulation, and liberalization
Coordinated national sectoral development strategies for agriculture, and industries (especially small and medium scale enterprise)
Infrastructural development, especially electricity, transport, and water
Addressing the problem of financing the real sector and mobilizing long-term savings and investment.
Effective regulatory regimes
Target of programmes to promote private sector growth and development
Strengthening the machinery for tax collection, and tracking of all government revenues paid into different bank accounts, as well as for recovering debts, misappropriated and looted funds and payments for work not executed
Tracking/responding to comparative/international standards
Promotion of investment
Export promotion and diversification of exports away from oil
Seeking of debt reduction to make Nigerian's debt service sustainable
Restructuring of the composition of credit to the private sector to boost production
Provision of more credit to the private sector especially long-term credit for real sector development
Tackling of corruption and improvement of the efficiency of government accounts, and
Re-definition of the role of the government as a facilitator providing an enabling environment for the private sector to invest and operate in a free market system.
Policies and Programmes on Poverty Reduction
The devastating nature of poverty has made successive Nigerian governments initiate programmes aimed at alleviating or reducing the scourge of poverty phenomenon on her citizens. These programmes include: Operation Feed the Nation (OFN), Green Revolution, Directorate of Food, Roads and Rural Infrastructure (DFRRI), National Directorate of Employment (NDE), Better Life Programme (BLP), the Peoples' Bank of Nigeria (PBN), Family Support Programme (FSP), Family Economic Advancement Programme (FEAP), National Economic Empowerment Development Strategy (NEEDS), etc (CBN Report 1998 Enugu zone).
The Poverty Alleviation Programme (PAP) was an interim measure out in place in 2000 to address the problems of rising unemployment in the society and to improve the productiveness of the economy. It was designed to coordinate and monitors poverty alleviation effort and ensures that Nigerians were provided with steady sources of income, high purchasing power, quality education, water, healthcare, and housing; stable and affordable power supply, among others. The implementation of PAP generated a public outcry and was accused of shoddiness and corruption. Subsequently, the government had to set up a committee which came up with the blueprint recommending National Poverty Eradication Programme (NAPEP) in 2001 (Okoye and Onyukwu, 2007).
NAPEP aimed to address the aspect of absolute poverty and to eradicate them. The stakeholders recognize that certain fundamental reasons were responsible for the inadequacy of anti-poverty measures over the years and they include the absence of a policy framework, inadequate involvement of stakeholders, poor implementation and arrangements and lack of proper coordination. All of these seem to have received attention in designing NAPEP and to make it different from all past efforts. The mandate is to monitor and coordinate all poverty eradication efforts in order to harmonize and ensure better delivery, maximum impact and effective utilization of available resources. The effort to eradicate poverty, the government arranged NAPEP into four schemes. These are Youth Empowerment Scheme (YES), Rural Infrastructure Development Scheme (RIDS), Social Welfare Schemes (SOWESS) and the Natural Resources Development and Conservation Scheme (NRDCS). They performed individual functions which are as follows;
Youth Empowerment Scheme (YES): this deals with the capacity acquisition, mandatory attachment, productivity improvement, credit delivery technology development and enterprise promotion. The Rural Infrastructure Development Scheme (RIDS) has to do with the provision of potable and irrigation water, transport (rural and urban), rural energy and power supply. The Social Welfare Services Scheme (SOWESS) deals with interventions in special education, primary healthcare services, establishment and maintenance of recreational centres, public awareness facilities, youth and student hostels development, environmental protection facilities, food security provisions, agricultural inputs provisions, micro and macro credits delivery, rural telecommunication facilities, provision of mass transit and maintenance culture. Natural Resources Development and Conservation Scheme (NRDCS) deal with the harnessing of agriculture, water, solid minerals resources, conservation of land and space particularly for the convenient and the immediate community (Okoye and Onyukwu, 2007).
A major strategy for the implementation of MDGs in Nigeria as earlier noted is the NEEDS. The targets are to half by 2015 the proportion of people whose income is less than one dollar a day. The second target is to half by 2015, the proportion of people who suffer from hunger (MDGs, 2006). As a result of the improvement in the management of the economy, the growth rate of GDP average 8.2% between 2003 and 2004 against the average annual growth rate of 3.5% in the last decade. Findings in 2004 indicated that poverty was acuter in rural areas in Nigeria and that some geopolitical zones were particularly harder hit than others by the phenomenon while unemployment kept souring with the worst affected age bracket being 13-25 years (MDGs, 2006 and Obadan, 2001). In line with the policy thrust of NEEDs, the government set up the National Poverty Eradication Programme (NAPEP) to tackle the challenges of poverty. But since the establishment of NAPEP, it has nothing tangible to show for its existence. The general impression is that NAPEP has failed the country because the poverty rates are still high, it is gathered that the agency has received a total of 11.8 billion Naira but it has nothing to show for it (Guardian Feb. 24, 2009). The local governments in collaboration with their State governments are not helping matters neither, there are reported cases of misappropriation and diversion of budgetary allocations that are meant to efficiently tackle some of the challenges of poverty in the country. The revelation from the probe by the House Committee on power and steel into the National Integrated Power Project (NIPP) of the former president Obasanjo's administration buttresses the fact that intention on the pages of paper is not enough to tackle the scourge of poverty in this country. The probe revealed that over 10 billion US dollars were said to have been spent on the NIPP without any result to show for it (TELL Magazine, April 21, 2008).
The civilian administration that started in 2007 proposed a seven-point agenda of development. The main objectives and principle of the agenda include improving the general well-being of Nigerians and making the country become one of the biggest economies in the world by the year 2020. The agenda has critical infrastructures as the first key area of focus. These include; power, transportation, national gas distribution, and telecommunication. The second focus is to address the existing issues in the Niger Delta through the NDDC and the Niger Delta ministry. Food security constitutes the third priority area. The fourth area is human capital development and the land tenure reform is the fifth key area. While the sixth key area is national security, the seventh area of focus is poverty alleviation through wealth creation as laudable as these programmes appear, poverty still remains endemic and pervasive in Nigeria Abdullahi (Mrs.) 2008.
According to Odion (2009), 70% of the over 140 million Nigerians currently live below the poverty line of one dollar per day. The rapid urbanization, put at over 5 percent per annum, exerts severe pressure on ailing infrastructure. Nigeria is further ranked as one of the twenty-five poorest nations in the world. This further intensifies youth unemployment. The Human Development Report 2007/2008 on Nigeria showed that the Human Development Index for Nigeria is 0.470, which gives the country a rank of 158th out of 177 countries. Life expectancy was 46.5 percent, ranking Nigeria as 165th and literacy rate (% ages 15 and older) was 69.1, ranking Nigeria as 104th out of 177, the report also indicated the Human Poverty Index value of 37.3 percent for Nigeria, which ranked the country as 80th among 108 developing countries for which the index was calculated (UNDP, 2008). According to Bello (2007) about one million Nigerian children were given out for forced and exploitative labour, of which 18 percent work in dangerous environments after school hours. Ten million Nigerian children of school age were reported to be out of school as shown by statistics on school enrolment released by UNICEF (2008). Eradicating poverty as a step towards sustainable development in Nigeria via MDGs framework continues to appear as a Herculean task.
Theoretical Framework
Attempts have been made to discuss theories of poverty from various dimensions. No matter the dimension, every theory of poverty falls into one of the four identified perspectives. They are the Conservative, the Liberal Reformists, the Radical Structure/Marxists and the Social Exclusion. The conservative theories namely: individualistic and culture of poverty posit that the poor are responsible for their poverty. The liberal reformists' perspective which deals with the situational theory of poverty is hinged on the fact that poverty results from experiences that individuals or groups pass through. The radical structural/Marxist perspective argued that capitalism produces poverty due to its exploitative syndrome. The social exclusion theory is predicated on poverty resulting from people who tend to be excluded from effective participation in a society's activities due to segregation.
The long-term and recurrent phenomenon of poverty in Nigeria could be traced to the structural/Marxian theory of poverty which says capitalism brings about fundamental social problems, characterized by high incidence of inequality. The various programmes on poverty reduction in Nigeria yield no fruit due to this pronounced inequalities and class division in the Nigerian society. The poverty-stricken members of the society are often left out in the policy formulation and implementation such that those directly in charge of this programme are the bourgeoisie and wealthy members of the society Haralambos and Heald, 1980).
From all indication, the Millennium Development Programme of poverty reduction in Nigeria may not be met since most of the bourgeoisie are out to exploit poor masses and divert funds set for the implementation of poverty reduction programmes. Unless an individual belongs to the class of the bourgeoisie such individual will continue to remain in abject poverty. Since the class division of the society based on the bourgeoisie and the poor, the poor are unable to attain higher living standard thus out of poverty because the capitalist arrangement is biased against them Archibong (1997).
The Way Forward for Nigeria
Poverty in Nigeria is deeply rooted and multi-faceted as such, an effective poverty reduction strategy must reflect its multidimensional nature, incorporating economic, social, cultural and political dimensions. Consequently, achieving the MDGs and sustainable development through poverty reduction would require the commitment of all stakeholders involved – individuals, communities, governments, non-governmental organizations and relevant international agencies. First, the federal, state and local government must ensure commitment in the areas of fund allocation for provision of social services that are beneficial to the poor; fostering efficient macroeconomic and sectoral policies and the provision of an enabling environment to facilitate private sector economic framework. Also, the government should recognize and encourage non-governmental organizations (NGOs) to be actively involved in a wide variety of activities to help provide development opportunities for grassroots communities considering the disproportionately high incidence of poverty in the rural communities. Such encouragement of the NGOs should be closely accompanied by governments increased investment in human capital, a requirement necessary to equip the poor with education/training in order to enable them to share in such grassroots opportunities.
Another strategy for the government to realistically undertakes a comprehensive study on the causes of poor implementation of development policies and strategies and develops a plan of action to address this critical and persistent problem. There is also the need to develop long-term strategic plans that address unemployment, taking into consideration the educational curriculum and the needs of the labour market as well as strengthening the human and financial capacity of poverty alleviation institutions in the country.
Finally, there is the need to fully integrate the MDGs into the national development plans, constitution and enhance monitoring them thereof.
Methodology and Data Analysis
For the successful study and analysis to ascertain the appraisal of poverty reduction of the MDGs in Nigeria questionnaires were drafted sample of people opinion if poverty reduction of the MDGs is visible in 2015. A total of fifty (50) questionnaires have been designed and used. The questionnaires were randomly administrated on campus to both lecturers and students, the direct information retrieved on the broad topic will be presented in a table while the simple percentage method of data analysis was used to analyze the data.
Table: Have NAPEP/ other programmes reduced poverty incidence in Nigeria?
| | | |
| --- | --- | --- |
| Description | Total | Percentage |
| Yes | 8 | 16% |
| No | 42 | 84% |
| Total | 50 | 100% |
Source: Field survey, 2012
From the table above, it could be deduced that the respondent disagreed with the fact that NAPEP/other poverty reduction programmes have actually reduced poverty incidence in Nigeria with about 84% representing 42 respondents while 16% agreed that the various poverty programmes have actually reduced poverty incidence in Nigeria.
Conclusion and Recommendations
Poverty has various dimensions such as lack of adequate food and shelter, education and health, vulnerability to ill health, natural disasters and economic dislocation as well as lack of voice in matters concerning them. Until the adequate understanding of all the multi-dimensional nature of poverty is put into place and brought into play, all strategies may end up addressing only one dimension or, at best, some dimensions of poverty.
To be able to effectively achieve the objective of reducing poverty to a considerable low level, efforts or strategies formulated and directed towards poverty reduction need to be holistic in nature. Poverty issues cannot effectively be addressed in isolation of social norms, values, and customary practices at different levels of the family, community, state, region or nation.
The poverty reduction institutions of the government should be seen as an integral part of agencies responsible for the realization of good governance and provision of basic social amenities, especially enhancing security and providing means of cushioning vulnerability of citizens to external and mostly uncontrollable events such as violence, economic shocks, natural disaster etc.
In view of the reviews, surveys conducted and findings drawn from it, suggestions made by respondents on the above conclusions and the need to move Nigeria forward in its poverty reduction efforts, the following recommendations are put forward.
– Poverty reduction programmes should be given its pride of place through adequate budgeting and prompt releases of funds to them;
– Efforts should be made to effectively target the poor in all consideration and at all levels of articulation, implementation, monitoring, and review of the poverty reduction strategies.
– The government's anti-corruption efforts should be stepped up and seriously upheld in dealing with matters concerning poverty reduction programmes/agencies and even beneficiaries.
– Issues concerning inconsistency should be resolved and its agencies should develop a multi-dimensional approach to poverty reduction strategies and implement along that line;
– No strategies, programmes or projects on poverty reduction should be articulated and implemented without the proper consultation with the stakeholders on a bottom-up approach basis;
– A complete re-orientation package in the form of campaigns, publicity, talks, and seminars should be embarked upon in order to change the attitudinal disposition of the poor towards government programmes, employment, and empowerment drives etc.
References
Aliyu, A. (2001). National Poverty Eradication Programme: Conception, Implementation, Coordination, and Monitoring. Abuja: NAPEP. 51p
Central Bank of Nigeria and World Bank (1999). Nigeria Development Prospects: Poverty Assessment and Alleviation study. Abuja: CBN Research Department, 123p.
United Nations Development Programme, (2001) Nigeria
Human Development Report 2000/2001 Millennium Edition. UNDP Lagos.
Narayan, D. et al (2000), Voices of the Poor: Crying out for Change
Joe, A.I. (1992) Fundamental Statistics for Education and the Behavioural Sciences Kraft Books Ltd Ibadan.
Canagarajah, S. (1999) Poverty and Welfare in Nigeria Federal Office of Statistics and World Bank.
Poverty Reduction Plan 2001 to 2004 "A Report of Inter-Ministerial Group of Officials, Coordinated b the Economic Policy Coordinating Committee Abuja.
World Bank (1999), "Nigerian Consultation with the Poor". Report of the Global Synthesis Workshop September 22-23, 1999.
Federal Republic of Nigeria (2000), "Main Report by Technical Committee on the Poverty Alleviation Programmes in Nigeria.
Ajakaiye, O. (2003) 'Public Service and the Challenges of Managing Poverty Eradication in Nigeria". A paper Presented at the 2003 Retreat for Permanent Secretaries and Directors in the Federal Civil Service of the Federation June 18, 2003.
Aliyu, A. (2002) 'Implementation Progress Report: Background Structure, Achievements, and Problems. A paper presented at a one-day special Presidential Retreat for Permanent Secretaries.
Onyemomi, E. O. (2003) Poverty Eradication of the Federal Government: Roles of States, Local Government, and NGOs"