Hello Readers, welcome to another Fun-Facts series, we shall be looking at Vladimir Putin the President of Russia.
Vladimir Putin Earned A Black Belt In Judo Because He Was Slow To Start Puberty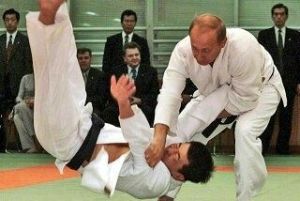 By the age of 18 Putin had achieved a black belt in judo – something he refers to as a "life philosophy" – and he still practises the martial art during his spare time. Interestingly, Putin – who also trained in the Russian martial art Sambo (or Samozashchita Bez Oruzhiya) – revealed he took up judo in order to "keep his place in the pack" and not be bullied because other male teenagers had started puberty before him.
He is really good at Hockey
Really good. He was even able to score a goal against a keeper for Russia's national team! (That guy was definitely playing his hardest.)
He Spent His Childhood Hunting Rats In An Apartment Block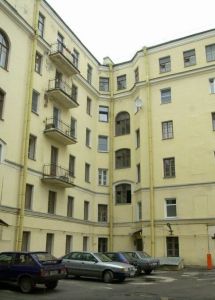 Putin was born into a poor Soviet family in Leningrad (now St Petersburg) and he lived in a communal apartment block with his parents, siblings and three other families. In his official biography, the Russian President revealed he spent his spare time hunting rats on the stairwell.
Secret life of Vladimir Putin's Daughters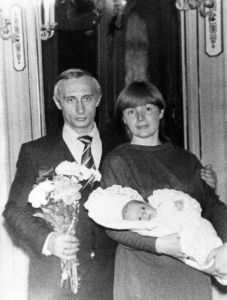 Credit : Vladimir Putin with his wife and daughter Katya, spring 1985, from the Putin family album. (Sovfoto/UIG via Getty Images)
Putin has two daughters with his former wife Lyudmilia, Yekaterina and Mariya, both of them in their early-thirties.
Editing Needed

*There are photos with the girls leaked to the media, but they've never been photographed as adults in public. Not even Kremlin insiders know what they look like. Furthermore, Putin doesn't allow anyone to find out where they reside, whether or not they're married, etc. The Russian newspapers reported in 2005 that Putin's daughters were attending college in St. Petersburg, but all speculations were immediately quashed.*
They have been photographed but their life remains secretive.
Source 1 : In Spotlight of Power, Putin Keeps Private Life in Shadows
Source 2 : News, Facts & Other Information You Love – UncoverDiscover.com
He Has Several Pet Dogs And Used One To Scare German Chancellor Angela Merkel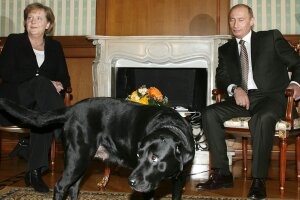 The Russian President loves dogs and keeps several as pets – and he also uses them as political devices to scare the German Chancellor, Angela Merkel, it seems. It was alleged in January 2007 that Putin brought his black labrador, Koni, to Sochi for a diplomatic meeting with Merkel – knowing full well she is petrified of dogs, having been bitten by one as a youngster – in order to intimidate her. The meeting – involving discussions over Russia's supply of energy to Germany – ended with Merkel nervously commenting: "Now the dog is going to eat the journalists…"
Vladimir Putin Went Scuba-Diving For Ancient Greek Jugs

In August 2011, during one of the countless photo ops Putin undertakes every year, the Russian leader "discovered" ancient Greek vases while scuba-diving in the Black Sea. However, two months later his chief spokesman admitted that the footage of Putin collecting two fragments of 6th Century BC Greek Jugs – in which he grabs them in clear water and declares "the boys and I found them" – was actually staged. Apparently the jugs had been discovered earlier by archaeologists and deliberately placed there for Putin to "recover".
Putin Helped To Put Out Wildfires In The Russian Countryside By Co-Piloting An Aircraft
In August 2010, Putin co-piloted a fire-fighting plane in order to help put out hundreds of wildfires in western Russia. The wildfires, in the Ryazan region, had covered Moscow in a huge smog but Putin pressed the button which dumped hundreds of litres of water on to the affected areas to help calm them down.
Vladimir Putin Worked As A KGB Agent And Spied On The West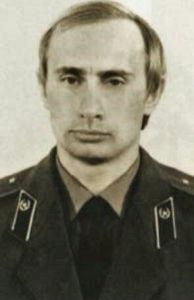 For 16 years Putin worked as an officer in the KGB (the Committee for State Security), spying for the secret police agency in East Germany between 1975 and 1991. Putin's primary job was to recruit foreigners in Dresden in the hope of sending them as undercover agents to the USA. While the Berlin Wall was falling in 1989, Putin even burned KGB files as a mob tried to enter the agency's headquarters in Dresden. He moved back to Russia in 1991 and left the agency with the rank of lieutenant colonel.
Vladimir Putin Is A Fluent German Speaker But Is Nervous At English
Having been posted to East Germany, Putin became fluent in German and regularly converses in the language with Angela Merkel. However, Putin is less competent at English. He does have conversational English but lacks confidence in speaking the language publicly, only doing so on a handful of occasions.
You Can Buy Putinka Vodka and PuTin Canned Goods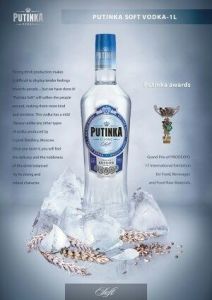 If there were ever any doubts about how highly Putin was held in his home nation then the fact that his name and image has been used to advertise several products should put them to bed. T-shirts bearing images of the Russian leader, as well PuTin canned food, Putinka Vodka and Gorbusha Putina caviar, are sold throughout the nation.
He Believes Same-Sex Marriage Is Akin To Satan-Worshiping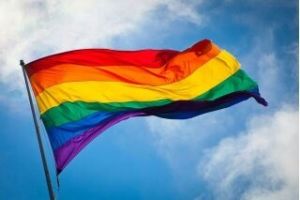 Putin is a devout Orthodox Christian and he stringently holds to the traditional values of the church – with often-controversial results. One belief Putin holds is that same-sex marriage is akin to Satan-worshiping – and argued in a speech in September 2013 that Russia must avoid following European countries who were "going away from their roots" by legalising gay marriage and allowing for excessive "political correctness".
Vladimir Putin Has An Alleged Personal Worth Of £46 Billion
Although no-one knows for sure, it has been alleged that Putin has a huge personal wealth of up to £46billion. Russian opposition politicians and journalists have alleged that Putin secretly owns huge stakes in numerous Russian companies, adding to his supposed hidden wealth. It is believed that Putin owns at least 11 luxury watches (worth a combined £500,000) as well as 20 villas and palaces, nine of which were built during his time as President. What's more, one of those mansions – dubbed "Putin's Palace" – is being constructed in Italianate style near the Black Sea village of Praskoveevka and is allegedly costing £750million to build.
He Is The Hero In An Online Comic Series Called "Superputin"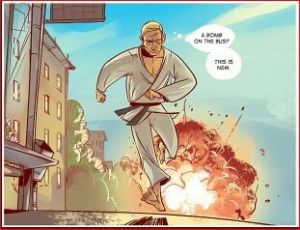 Russian writer Sergei Kalenik began an online comic series in 2011 named "Superputin" – in which the Russian President saves his nation by judo-chopping terrorists. Putin is depicted as a superhero who fights the twin evils of public protest and terrorism – and in one episode even stops a bomb from blowing up a bus, while in another he destroys an army of zombies.
Comic link : "Человек как все"
He Announced His Divorce From His Wife During An Interval At The Ballet They Were Attending Together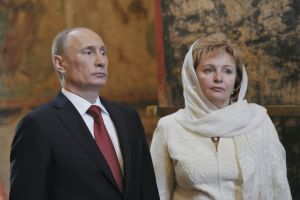 In June 2013, while Putin and his wife Lyudmila were leaving during the interval of the ballet La Esmeralda that was being performed at the Grand Kremlin Palace, they were asked why they were so rarely photographed together in public. Putin immediately responded saying that a "joint decision" had been made for them to be separated because they "practically don't see each other". He also referred to the separation as a "civilised divorce".
West German Intelligence Described Putin As A "Wife-Beater"
West German spy agency BND described Putin as a "philanderer and a wife-beater" during his time as a KBG agent in East Germany. A BND agent codenamed "Balcony" – due to her large breasts – supposedly became acquainted with Putin's wife Lyudmila. Lyudmila then told Balcony about her husband's many infidelities, as well as his physically abusive side.
Vladimir Putin Effectively Used A Constitutional Loophole To Gain Re-Election For A Third Time
Having served as President from 2000 to 2008, Putin was unable to stand for a third-consecutive four-year term due to the terms of the Russian constitution and had to leave office. His protege, Dmitry Medvedev, instead assumed the presidency, appointing Putin as his Prime Minister between 2008 and 2012. In September 2011 the Russian constitution was then altered to allowed presidential terms to be extended from four years to six and, having been out of office for four years, Putin was re-elected for a third, non-consecutive term in March 2012. The Russian constitution prohibits more than two consecutive terms, but allows for more if they are non-consecutive – unlike the terms for the American presidency, when a single person is limited to two full terms and a total serving time of 10 years. Putin has three years of his current term remaining, and could in theory extend his cumulative time as President of Russia to 24 years if he runs for re-election in 2018.
Vladimir Putin Is A Huge Fan Of The Beatles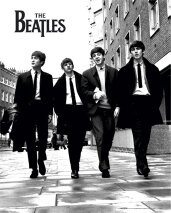 His own fondness for singing may have already been revealed, but it has also been claimed by those close to Putin that the Russian premier loves The Beatles. Paul McCartney is his favourite member of the 1960s pop group – with Yesterday his most-loved track.
That's all from my side. Enjoy yourself
P.S. All these data has been acquired from different websites which has been mentioned already. For the validity and correctness of information you may visit the site as mentioned earlier.
Source Except indicatd : WhatCulture.com