As a growing Christian boy, it was always a pleasure to be linked to Israel. As a Christian, Israel is capable of destroying the whole world because God (Yahweh/Jehovah) is with Israel. Having been told and have read and believed that Israelis are special people chosen by God. And that Yahweh, being all-powerful and All-knowing has promised Israelis (Jews to be precise) victory in any war they engage in. In all, it was a blessing to be linked to the Jews.
I am from South East Nigeria, an Igbo by tribe. Most people, at least, over 80% of Igbo people are Christians. Just like me, other Christians see Jews the same way I saw them. Until the arrival of the missionaries, the Igbo people had no idea the existence of anything like Jew or Israel.
However, it became a common story that Igbo people are descendant of the Jews. It started from being Jews by adoption for Christians since according to Christian belief, Jews are the firstborns of Yahweh, the Christian God. To be associated with Jews, just like I pointed out earlier is a monumental blessing.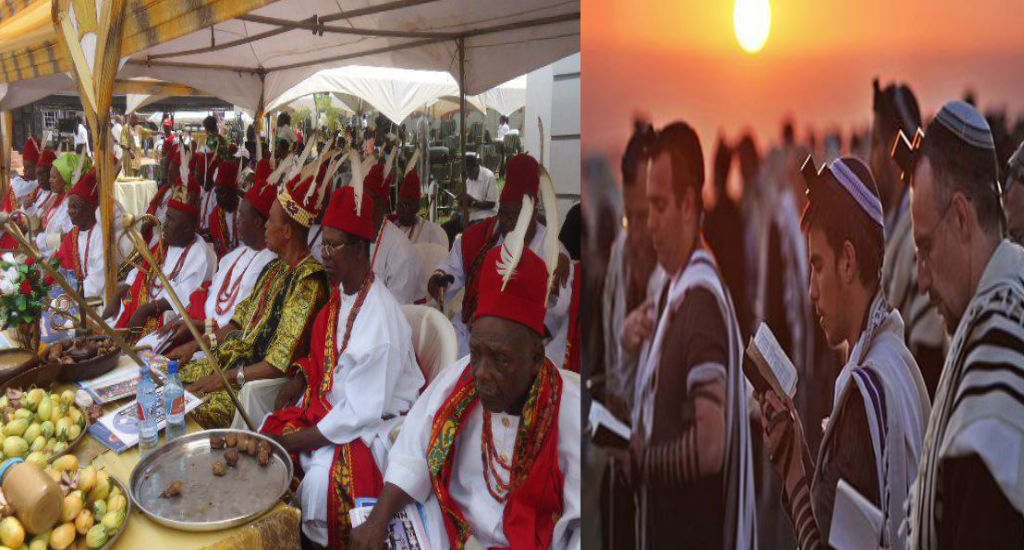 Along the line, some similarities between Jewish and Igbo cultures started cropping up. I will look into these similarities one at a time; at least, the most prevalent and widely believed similarities.
Circumcision in Igbo-Land
This is one area I have always had a hard one for. The Igbo Jewish wannabes postulate that since they see circumcision as a requirement for purity just like the Jews, it is therefore a strong indication that Igbo people are descendant of the Jews. This is also strengthened by the perceived circumcision of male children on the 8th day of the child's birth. However, this practice of circumcising male children on the 8th day was not a prevalent tradition in Igbo land until Christianity found its root in the land. In Nkanu land, a clan of Igbo land, the early people, pre-Christian Nkanu did not practice child circumcision. I remember a story told of my grandfather, he was a street man, had many girlfriends, and also, was a handsome man. He eventually decided to go for circumcision when he got to the age of circumcision, he didn't inform any of his girlfriends that he was going for circumcision and a song was composed by some of his girlfriends, showing disappointment in him for not informing them beforehand that he won't be seeing them for some times. In Igbo land, pre-Christian era, circumcision was a ceremony.
However, the Jews have been practicing circumcision on the 8th day as decreed by Yahweh in the bible. But we can also glean from other articles that from record and research, the Jews were not the only ones who practiced circumcision.
Circumcision is part of initiation rites in some Pacific Islander, and Australian aboriginal traditions in areas such as Arnhem Land, where the practice was introduced by Makassan traders from Sulawesi in the Indonesian Archipelago. The origin of circumcision (tuli) in the Philippines is uncertain. One newspaper article speculates that it is due to the influence of Western colonization, however, Antonio de Morga's 17th-century History of the Philippine Islands documents its existence in the pre-Colonial Philippines, owing it to Islamic influence. Circumcision ceremonies among certain Australian aboriginal societies are noted for their painful nature, including subincision for some aboriginal peoples in the Western Desert.
In the Pacific, ritual circumcision is nearly universal in the Melanesian islands of Fiji and Vanuatu; participation in the traditional land diving on Pentecost Island is reserved for those who have been circumcised. Circumcision is also commonly practiced in the Polynesian islands of Samoa, Tonga, Niue, and Tikopia. In Samoa, it is accompanied by a celebration. Among some West African animist groups, such as the Dogon and Dowayo, it is taken to represent a removal of "feminine" aspects of the male, turning boys into fully masculine males.
The evidence of circumcision in other culture who do not in any form link themselves to the Jews dismisses the idea or the assumption that circumcision started from Israel and was passed by the Jews.
Igbo History
Up till this day, nobody has come up with a comprehensive history of the Igbo people. However, some Igbo people believe they departed from their Jewish brothers during the Exodus from Egypt 3000 years ago. These people believe the Igbo landed in Nri Kingdom. According to them, Eri being an edited version of a Jewish name, Eli was the ancestor of Igbo people. However, historical fact available to us has proven this to be false. We have at our disposal, some pottery works depicting the existence of Igbo people as early 10,000 BCE, while the oldest Hebrew pottery that is found yet is just 3000 years old. When compared to the Igbo pottery work, it means we have a pottery work revealing Igbo existence that is up to 12,000 years old. From this, it is practically impossible to be a descendant of one who you have much more older history than his. The Eri that these Jewish wannabes see as their ancestor has its history rooted in the 8th Century. How Eri managed to father the other Igbo people who are thousands of years older than him is what I still can't get how these Jewish wannabes arrived at.
These Igbo Jewish wannabes have other arguments they hold onto. Looking at the Jews and their history, they hold their belief and spirituality in high esteem. While the Igbo people were never aware of any Jewish annual celebration even if they called them by different names, these Igbo Jewish wannabes still managed to convince themselves they are descendants of Jews. It is however strange to not have found the semblance of Igbo and Jewish culture until the arrival of Christianity in Igbo land.
The Igbo Jewish wannabes also claim that Jews and Igbo have common entrepreneurial history, that since the Jews are scattered across the world and the Igbo also scattered across the world, that this is an obvious similarity and an evidence to back up their claim. However, the Chinese are also scattered across the globe and the Chinese never linked themselves to the Jews. In fact, a typical Chinese would consider it an insult to be linked to the Jews.
Right until the arrival of the Europeans, Igbo people never had a homogeneous history. Each clan has almost different historical background from the other clan. Igbo, as a nation was a democratic nation. Each clan was autonomous. The history of Okigwe is different from the history as told by Nsukka people. I believe these people came together on common interest, maybe business relationship, and one language eventually swallowed the other languages, not really that the Igbo people came from one place. When the Europeans arrived, most of the other tribes that constitute Nigeria have a history of their origin, according to the tribe, Igbo didn't have anyone that tells how the Igbo people originated. I think it was in a bid to appear like other tribes that some Igbo people came up with the claims that Igbo people are from Israel.
Having looked at our evidence and facts, it will be ridiculous for someone to still hold onto this fallacy that Igbo people are from Israel based on what he read from the Bible while he doesn't have any evidence beyond the Bible to back this claim up. Summarily, we can say the idea of the Jews of West Africa is a hoax. It is however unfortunate that those making this claim don't care about evidence or facts, they merely hold onto their beliefs which they desperately wish was true.
References