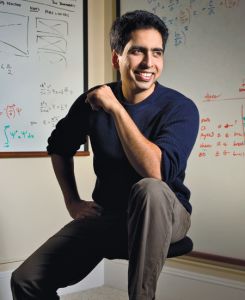 Sal Khan single-handedly started an educational evolution unintentionally but he worked extremely hard to make it possible. He was a hedge fund analyst back in 2004 and used to tutor his niece, Nadia, online since she struggled with Maths. Soon he started to upload his videos to YouTube when Nadia told him that she preferred the Youtube version of her uncle since she could watch and repeat the videos as many times as she liked.
Gradually, more and more people started to view the videos and Sal Khan started receiving a lot of positive comments and emails from both parents and students. Realizing he was making an impact, Sal Khan quit his well-paying job and confined himself to his computer room for hours in making lecture videos.
Since he was unemployed, Sal Khan survived on his savings for nine months. Until. Ann Doerr, wife of John Doerr; donated $100k to KhanAcademy and opened doors to other philanthropists and sources of funding.
Later, Bill Gates said in an interview that he used KhanAcademy to teach his children. That's when Khan Academy truly became a global phenomenon.
Bill Gates has invested $10 million into it till date.
KhanAcademy is now known around the globe and their software has already been implemented in a lot of schools, helping countless students completely free of cost!
Sal Khan's vision is to make education free for everyone and he genuinely has done more for the world than most of the politicians, leaders, billionaires and tech giants.
Aside from being a revolutionary, he has degrees from Harvard (M.B.A.) and MIT (B.S. and M.S.), and he's happily married since 2004.
He isn't earning close to what he could've earned while having a career in finance but he is doing something bigger that brings more satisfaction than any amount of dollars.
Imagine going to sleep every day knowing millions of students are succeeding because of your videos. It's what euphoria is like.