It is no longer news that the results of the NECO 2018 June/July examination are out. In this guide, we will be giving you the NECO Result Checker 2018 procedures. Kindly follow below step by step procedure to check your NECO Result 2018. Goodluck!
Procedures for the NECO Result Checker 2018
Go to the official NECO Result Checker 2018 portal at http://www.mynecoexams.com/results/.
Select year Examination Type (i.e. June.July).
Select year of examination (i.e 2018).
Enter your card PIN number (the PIN on the NECO Result Scratch Card).
Enter your Examination Number
Finally, click on "Check My Result" button to finally see your result.
At this point, if you followed the correct steps listed above, you should be able to see your results.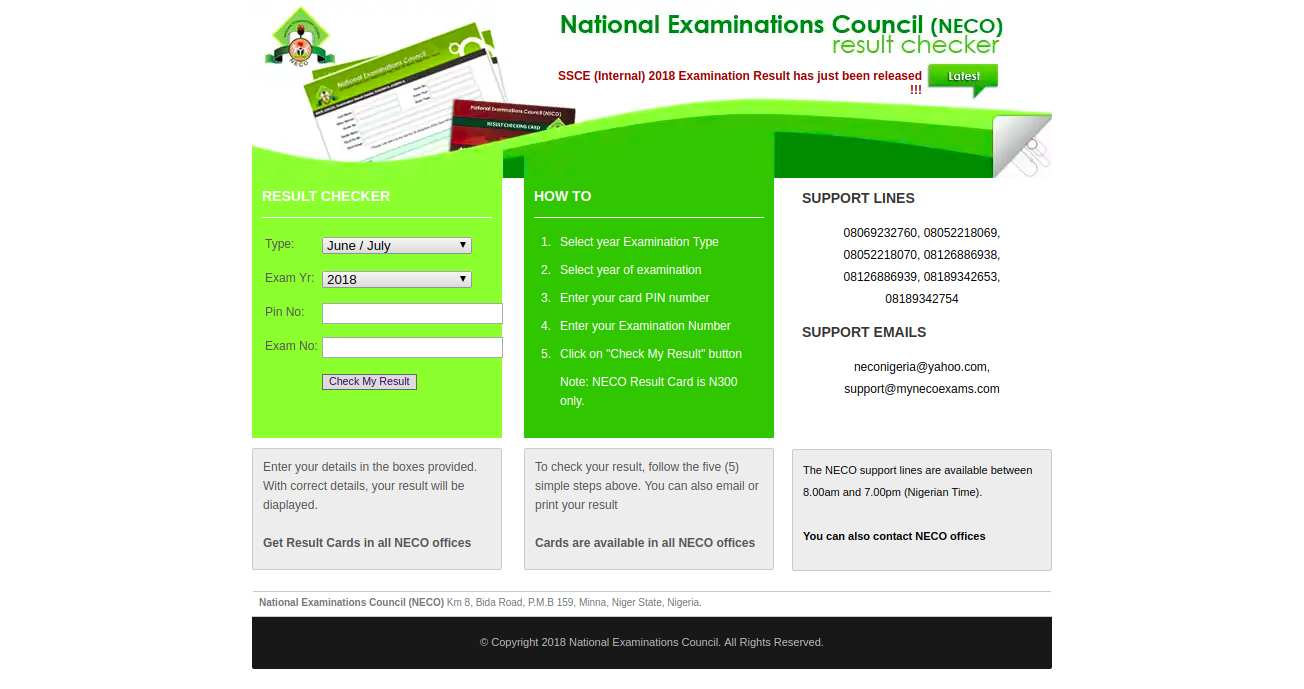 Note: The NECO result checker 2018 has a limited number of uses. We advise that you print your result during the first to third checks or screenshot the result via a computer and send it to your mail inbox or Google drive for future references and subsequent printing.
The statement by NECO's Acting Registrar/Chief Executive of the Council, Alhaji Abubakar Gana, showed that there is a decrease in examination malpractices. According to Gana, about 9,000 of the candidates that registered for the examinations did not sit for the papers, noting that "1,041,536 registered for the examination, while 1,032,729 sat for it. "Comparative analysis of candidates with five credits and above, including English Language and Mathematics for 2017 and 2018, shows 70.85% for 2017 and 71.48% for 2018— an increase of 0.63%." He directed candidates to access their results online.
According to him, a total of 20,181 candidates were involved in examination malpractice — 3,269 candidates in Mathematics and 2,177 candidates in English Language.
He decried the fact that 838 candidates were absent from the examinations, yet had answer scripts.