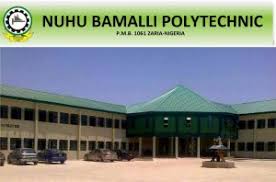 Nuhu Bamali Polytechnic, NUBAPOLY second list ND and HND Admission Lists for the 2018/2019 session has been discharged.
Candidates who applied for admission into Nuhu bamali Polytechnic (NUBAPOLY) for the 2018/2019 session are to go ahead and check their confirmation status.
The names of admitted candidates have been uploaded on the internet urging candidates to go with the process below to check their admission status;
HOW CANDIDATES CAN CHECK THE ADMISSION LIST:
Candidates are to visit: https://www.nubapoly.edu.ng/std-adm-notfic-index.php
Enter your JAMB Registration number/Application form Number in the required segment.
Tap on "Proceed" and continue to see your admission status.
NOTE:
You will be issued a unique Admission Letter on effective completion of screening to help you get enlisted with the period stated beneath.
You ought to bring scratch cards for School Certificate (i.e O level) and JAMB where relevant.
You ought to bring along the entirety of your unique and photocopies of your credentials, five (5) passport photograph and a letter of undertaking to be of good conduct.
Accommodation fee is =N=6,090.00 (where accessible and based on first come, first served).
Enlistment begins on Wednesday 23rd January, 2019.
Enlistment closes on Friday first, February, 2019.
Any Student that neglects to enlist before that date naturally relinquishes the admission.
If you don't mind take note of that admission by proxy isn't permitted. So don't give anyone cash to enlist for you.